Hostile Crowd Greets Out of Touch Neighbor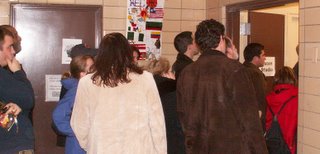 A dozen concerned neighbors struggle to hear what's happening from the hallway.

When Alderman Moore checks his attendance figures from last nights political meeting, Alderman Moore will find some shocking news. Connie Abels tried to stack the deck.
Even with all Connie Abels funny business, 3/4 of the room thought the 79 foot tall building plan wasn't a good idea.
Over 100 people attended this community/political meeting. Exact figures are unknown. But from the "Broken Heart's" view, the event was a sell out.
The overflowing crowd listened as Connie Abels challenged residents of the 49th ward residents to "
Put your money where your mouth is,
" as the crowd at one point shouted her down.
Ms. Abels also paraded what looked like the entire sales force of ReMax agents into the meeting, disguised as neighbors.
Besides the filibustering from Rich Aronson and Katy Hogan, one such person who spoke caught my attention. She was a young Spanish lady who got her turn to speak from the back of the room. She repeated what a half dozen others had already said before her,
"The neighborhood changing"... "This project is beautiful".... "Change will happen".... "I'm for it"....
It was as if the whole event was scripted. Then the young lady promptly left the meeting without asking a question.
As she was leaving out the door, I asked her name and where she lived. Instead of telling it to me who she was, she pulled out her business card. The card said it all ...
ReMax North Coast, Adriana Ossa-Cruz-realtor.